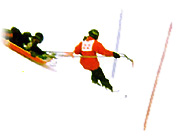 The Professional
Ski Patrol Association
Serving the Skiers of the World
ver 04.25.18
Welcome to the home of the Professional Ski Patrol Association. The Professional Ski Patrol Association is dedicated to promoting the highest standards of ski patrolling. PSPA educates, tests, and certifies patrollers in ski safety, first aid skills, toboggan handling and ski techniques.
News
2018 Annual Exam
The 2018 Annual Exam was held at Loon Mountain in New Hampshire on March 07/08, 2018. A big congratulations goes out to new Professional Ski Patrol Association Certified Members Roddy Ehrlenbach and Luke Disilvestro. Five candidates were successful in the Skiing/Toboggan Exam and became new Affiliate Members: Matt Bateman, Dave Chaimovich, Tom Faraday, Derek Scott and Mike Techiera. Lastly, congratulations to new Examiners Ben DeFroscia and Marc LeBlond. Thank you to everyone who assisted in putting another top notch exam.

2017 Annual Meeting
The 2017 Annual Meeting was held at McIntyre Ski Area in Manchester NH on Sunday October 15 @ 1630. It was decided to have this years Annual Exam at Cannon Mountaain in NH. See the events page for a list of certified clinics.

2017 Annual Exam
A very successful Annual Exam was held at Sugarloaf this year on March 01/02, 2017. We were very lucky with the weather on Wednesday for the S & T portion of the exam. The forecast called for heavy rain, so we prepared to get wet. To our surprise, we only experienced a few light showers and mild temps. All that equaled soft spring like snow, long courses and big smiles! Which also means we didn't freeze our butts off for once. All of the candidates were successful during the S & T portion of the exam.

Mother nature wasn't so nice on day two. She slapped us in the face with 80 mph winds at the summit and dropping temps. Unfortunately, only to bottom two lifts opened. Thank goodness that our first aid chair had a plan B and a plan C. I think we ended up using plan D to pull off the First Aid Practical. Everything was held outside at the bottom of the mounting. Some of the candidates were successful and others walked away with a good learning experience.

In the end, it was a very good showing by all of the Candidates this year. Congratulations to our two new fully certified members Zach Davis and Dan King; both from Sugarloaf. Both were very determined superb patrollers with a great attitude. A big thank you goes out to the Sugarloaf Ski Patrol and staff for being so kind and helpful. PSPA wouldn't be successful without the unwavering support from Ski Areas like Sugarloaf.
Ongoing Call to Members
Remember that day you achieved your PSPA certification? Most likely it came as a result of lots of hard work and training. The process is not simple and requires candidates to push themselves to vastly increase their patrolling skills and knowledge.

As a member of PSPA you bring these increased skills back to the patrolling world every day. The strength of the organization is the diversity of its membership. As a member the organization is calling on you to promote PSPA within your respective patrols. Often this may simply mean answering questions about the certification process or pointing the person in the right direction to get information. Motivating and helping others to also strive for certification is the best gift you can give to a fellow patroller.
Congratulations to:
Tom Sutton shows off a
good snowplow technique.
New Affiliate Members:
Roddy Ehrlenbach (Sugarloaf)
Mike Webber (Loon)

New Certified Members
Zachery Davis (Sugarloaf)
Dan King (Sugarloaf)