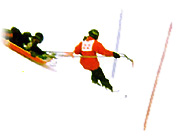 The Professional
Ski Patrol Association
Serving the Skiers of the World
ver 01.14.19
Welcome to the home of the Professional Ski Patrol Association. The Professional Ski Patrol Association is dedicated to promoting the highest standards of ski patrolling. PSPA educates, tests, and certifies patrollers in ski safety, first aid skills, toboggan handling and ski techniques.
News
2018 Annual Meeting
The 2018 Annual Meeting was held at McIntyre Ski Area in Manchester NH on Friday October 12. Please see events page for a list of this years events.

2018 Annual Exam
The 2018 Annual Exam was held at Loon Mountain in New Hampshire on March 07/08, 2018. A big congratulations goes out to new Professional Ski Patrol Association Certified Members Roddy Ehrlenbach and Luke Disilvestro. Five candidates were successful in the Skiing/Toboggan Exam and became new Affiliate Members: Matt Bateman, Dave Chaimovich, Tom Faraday and Derek Scott. Lastly, congratulations to new Examiners Ben DeFroscia and Marc LeBlond. Thank you to everyone who assisted in putting on another top notch exam.
Ongoing Call to Members
Remember that day you achieved your PSPA certification? Most likely it came as a result of lots of hard work and training. The process is not simple and requires candidates to push themselves to vastly increase their patrolling skills and knowledge.

As a member of PSPA you bring these increased skills back to the patrolling world every day. The strength of the organization is the diversity of its membership. As a member the organization is calling on you to promote PSPA within your respective patrols. Often this may simply mean answering questions about the certification process or pointing the person in the right direction to get information. Motivating and helping others to also strive for certification is the best gift you can give to a fellow patroller.
Congratulations to:
Tom Sutton shows off a
good snowplow technique.
New Certified Members:
Roddy Ehrlenbach (Sugarloaf)
Luke Disilvestro (Sugarloaf)

New Affiliate Members:
Matt Bateman (Sugarloaf)
Dave Chaimovich (Sugarloaf)
Tom Faraday (Sugarloaf)
Derek Scott (Killington)
New Examiners:
Ben DeFroscia (Sugarloaf)
Marc LeBlond (Sunday River)