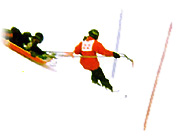 The Professional
Ski Patrol Association
Serving the Skiers of the World
ver 03.27.21
Welcome to the home of the Professional Ski Patrol Association. The Professional Ski Patrol Association is dedicated to promoting the highest standards of ski patrolling. PSPA tests and certifies patrollers in ski safety, first aid skills, toboggan handling and ski techniques.
News
COVID Update
Unfortunately, due to the ongoing challenges with the COVID 19 Pandemic, the PSPA Board of Directors has decided to forgo any Pre-Tests or Exams this year. Candidates currently in the process will receive a bye for this year as it pertains to the 3-year completion cycle. Members who are up for rectification will also receive a bye for this year. The Board of Directors will continue to monitor the situation going into next year. Members should expect to have an annual meeting in the fall as usual (though it may be virtual).

2020 Annual Meeting
The 2020 Annual Meeting will be held via zoom call on October 22, 2020 @ 7pm. All members are encouraged to attend. Please email Carl Chaplin to get informaiton for dialing ino the call.

2019 Annual Exam
There was a great turnout at this year's exam. Thank you to all that put in the effort to ensure a successful event. It was really nice to see those who haven't been able to attend an exam in several years. Four new examiner candidates attended the exam and one member successfully recerted. A very special thank you goes out to Killington and all their staff for being supportive and gracious hosts. Thank you Tait! The conditions were fantastic. Some candidates passed S&T and others passed First Aid. However, one candidate passed everything in her first year! A huge congratulations goes out to Christine Rholl of Sugarloaf for earning her full certification. Well done!
Ongoing Call to Members
Remember that day you achieved your PSPA certification? Most likely it came as a result of lots of hard work and training. The process is not simple and requires candidates to push themselves to vastly increase their patrolling skills and knowledge.

As a member of PSPA you bring these increased skills back to the patrolling world every day. The strength of the organization is the diversity of its membership. As a member the organization is calling on you to promote PSPA within your respective patrols. Often this may simply mean answering questions about the certification process or pointing the person in the right direction to get information. Motivating and helping others to also strive for certification is the best gift you can give to a fellow patroller.
Congratulations to:
Tom Sutton shows off a
good snowplow technique.
New Certified Members:
Christine Rholl (Sugarloaf)