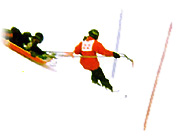 The Professional
Ski Patrol Association
Serving the Skiers of the World
ver 03.24.23
Welcome to the home of the Professional Ski Patrol Association. The Professional Ski Patrol Association is dedicated to promoting the highest standards of ski patrolling. PSPA tests and certifies patrollers in ski safety, first aid skills, toboggan handling and ski techniques.
News
2023 PSPA Certified Exam
The 2023 PSPA Certified Exam was held at Sugarloaf on March 1st & 2nd. On Tuesday, March 1st we awoke to 14" of fresh snow, which provided great conditions for the Ski & Toboggan portions of the exam. Four of our six candidates successfully completed the Skiing component, while five of six checked the box for Toboggan Skills. Thursday, March 3rd, we started the day with Practical OEC. While just one candidate successfully completed all scenarios, the remaining candidates put forth a great effort. We concluded the day holding the interview exam with a 100% success rate. At the end of the event, we were pleased to acknowledge our four new Certified Members: Jon Wilson, from The Hermitage Club, successfully completed our requirements for reciprocity with the NSP Certified Program. Blake Wilson, from Loon, and Tucker Brown, from Sunday River, completed components outstanding from prior years of their 3 year cycles. Sarah Nutt, also from Sunday River, completed all requirements for Certified Membership in her first attempt. Congratulations to all our newly Certified and Affiliate Members.
Ongoing Call to Members
Remember that day you achieved your PSPA certification? Most likely it came as a result of lots of hard work and training. The process is not simple and requires candidates to push themselves to vastly increase their patrolling skills and knowledge.

As a member of PSPA you bring these increased skills back to the patrolling world every day. The strength of the organization is the diversity of its membership. As a member the organization is calling on you to promote PSPA within your respective patrols. Often this may simply mean answering questions about the certification process or pointing the person in the right direction to get information. Motivating and helping others to also strive for certification is the best gift you can give to a fellow patroller.
Congratulations to:
Tom Sutton shows off a
good snowplow technique.
New Certified Members:
Tucker Brown (Sunday River)
Sarah Nutt (Sunday River)
Blake Wilson (Loon Mountain)
Jon Wilson (The Hermitage Club)